Planning a Christmas party can be a time of stress and frustration for both managers and HR professionals as they must consider all the different interests, preferences and tastes of everyone in the office. Not to mention the reminders for staff to be on their best behaviour and act appropriately during the end-of-year festivities! That's where Catalyst Team Building UK can help. Our expert and fun-loving team can arrange some excellent Christmas team building games, encouraging your staff to have fun while simultaneously improving key personal skills.
Want to know what goes into creating the perfect team building Christmas party? We've provided some tips, tricks and advice to ensure your seasonal party is no less than a festive success!
Icebreakers are Important
The end-of-year festive party is sometimes the only opportunity staff from different departments, branches, remote workers or home workers get to come together and catch up with their colleagues. While this is cause for excitement for many, some people can feel awkward meeting up with somebody they don't speak to often. Make sure you've got some light-hearted icebreakers that can help kick start conversation and avoid those potentially awkward pauses and lulls in the discussion.
The types of icebreakers you choose will depend on how many resources you have available, how many people you are accommodating and how long you anticipate staff waiting around before the true festivities begin. Some suggested activities include;
Toilet Paper Truths
For a small to medium group of people, this one can always generate some laughs. Pass around a toilet roll getting attendees to tear off the number of squares they typically use. While eyebrows may be raised to start with, once everyone is clutching their supply, they must then present an equal number of fun truths or interesting facts about themselves. To add a further level to the game, one of the 'facts' presented must be a lie and it's the groups' job to work out what is the truth and what is the myth.
What Movie is That?!
Another small to medium group icebreaker that can be played in one of two ways depending on how creative your team is feeling. Attendees must go around giving a one-line summary of their favourite movie – if it was played in reverse. It's a head-scratcher but once you've nailed the formula some fantastic fun and entertainment can be had. For example, Jaws in reverse could be summarised as "A large shark plagues a town by gradually increasing the population until they must open a beach." While everyone's favourite Christmas movie Die Hard, when played in reverse is the heart-warming story of Alan Rickman helping Bruce Willis find his shoes and get the office ready for a Christmas party. The alternative is to name the movie first and then come up with a suitable one-line summary together!
Protect Your Egg
A game for large groups that can be divided into teams of four or five. Protect your egg is a game that requires some initial preparation; getting together a bag of materials including paper, pipe cleaners, string, uncooked eggs and a mystery material of choice. The mystery material can be related to the business, be different for each team or simply be something ridiculous like an orange, a sponge or even a pair of tights.
Teams must work together to build a contraption that will protect their egg from cracking when dropped from a height. This game is best played somewhere with a second floor and might get messy so have some cleaning bits on hand or lay a tarp before launching your eggs out the window. If you want to add a dash of festiveness, give teams some extra bits to create their eggs a Christmas outfit before it meets its fate and get teams to vote on the most egg-cellent festive costume!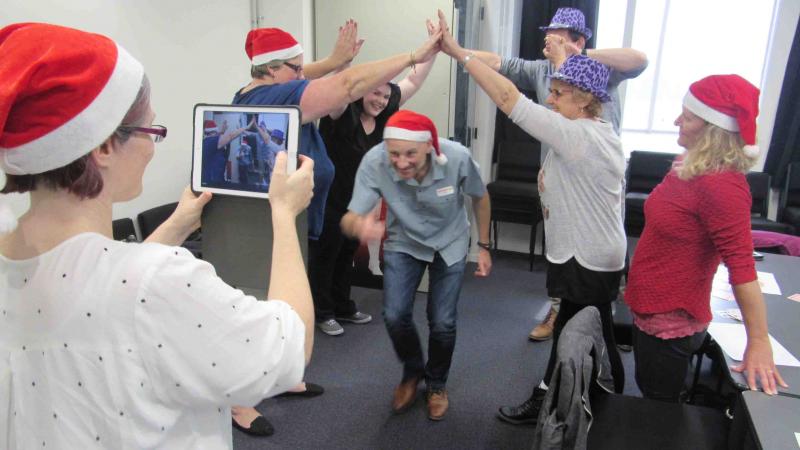 Fun Team Building Games for Christmas
With the icebreakers taken care of, it's time to consider the 'main event' of your Christmas party – deciding what Christmas team building games you going to incorporate. There are plenty of options available, from festive murder mystery games and a multi-activity Christmas quiz to games that get you up and moving or activities that get you adventuring.
Of course, if you want to reduce the hassle, reach out to Catalyst Team Building UK for assistance arranging your Christmas team building activities. We have several festive favourites available including Flat Out Sleigh Ride – where teams must build a working sleigh from a supplied flat pack of materials. With the sleigh built and decorated, it's time to race to the finish line, not forgetting to pick up and dress in your costume along the way!
Want a game with less running around and more gamified seasonal silliness? Then Quickfire Christmas is the quiz game for your staff! Hand-delivered by the man in red himself, each team will be provided with a Santa sack of team building goodies including a tablet loaded with tasks. When the timer starts, teams must race against the clock to complete their puzzles all while getting immersed into the Christmas spirit. Quickfire provides plenty of laughs, a varying level of complexity throughout the puzzles and most importantly, an excellent way to engage your employees this season.
Looking for some small games to pass the time between Christmas dinner courses? Try these excellent festive activities out on your teams during your Christmas party;
Finish the Verse
Working as pairs or in small groups, one team member must begin a Christmas song or carol, choosing a line to pause on. A member of a different team then must 'buzz in' (raise their hand or stand up first) to complete the rest of the verse. It's got to be 100% correct though, any mistakes and they will have to sit back down and pass it onto the next team!
The Movie Synonym
Another quick and easy game that can be played with individuals or teams. The first player must think of a Christmas movie or use their favourite Christmas movie and rewrite the movie title so that it means the same but is different from the original. Other players must then guess the answer first to win the point. Some examples include; Adore Essentially (Love Actually), Tightfisted (Scrooged), The Kris Kringle (The Santa Clause) and Puppets Sing for the Season (Muppet's Christmas Carol).
Sing in the Style Of…
A game that can get a bit rambunctious as the excitement mounts, "sing in the style of" encourages team members to choose a Christmas song or carol and perform the song in the style of someone else. For example, Jingle Bells sang to Queen's Bohemian Rhapsody, Little Drummer Boy sung to the tune of Nickelback's How You Remind Me and All I Want for Christmas sung in the style of The Clash's I Fought the Law. The results are sure to encourage some laughs and teams can vote on the team that chose the biggest style difference and which performance was best!
With this selection of games to choose from, there's no excuse not to have a fun-filled Christmas party this season. Get planning now and get your staff involved in choosing the activities that appeal to them the most.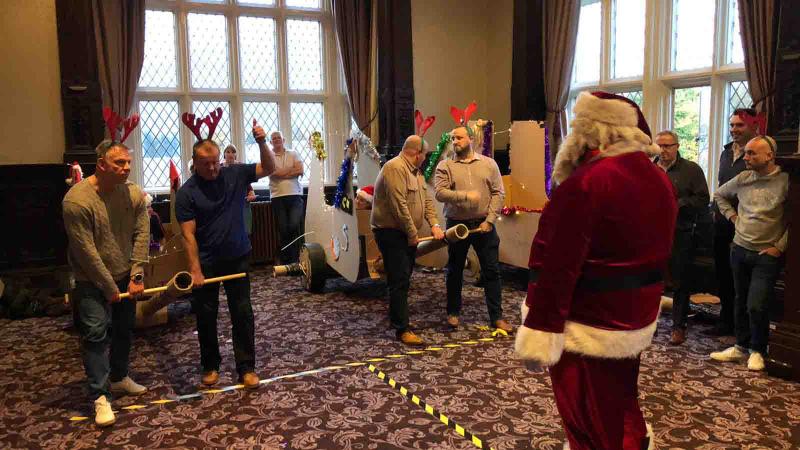 Christmas Team Building Games and Activities by Catalyst Team Building UK
For a Christmas party that gives upper management the night off from arranging activities as well, consider a Christmas team building party arranged by Catalyst Team Building. Our friendly staff love encouraging staff to get involved and arranging fun festive activities for all to enjoy. Our experience in arranging team building Christmas parties for all types of industries allows us to arrange the perfect occasion for you. Get in touch with our team today on 0207 193 5567, email us at info@catalystteambuilding.co.uk or complete our contact form online.